Assalamualaikum.
This year is our first year celebrating Ramadhan in our new home since we're moving here last Syawal. So it will be a different about Ramadhan this year. ermmm,maybe not much but let me see how..i hope it will be much better..=)
This year, i have resolutions about my Ramadhan. i wish i can spent most of my time during Ramadhan to do good things.. instead of what we MUST do everyday. My another resolution is to have a very simple and minimum foods during Iftar so that we will not wasting so much foods! and like most people will use this opportunity to lose weight, and so do i.. at least for 3 kgs.. =p
Now it's almost 3 weeks of Ramadhan, i could say the first resolution has not reached what i wish for. ermmm, not that im not performing what i wanted..but im a bit upset because im no longer perform my solat tarawikh in any surau like we used to in our previous years. Since we were moving to a new neighbourhood, there's still no proper surau build here. So, my brother and father performed their solat tarawikh in mosque/ surau that's need more than walking distance. therefore, ayah advice us to perform solat tarawikh by our own at home..you know the feeling to go perform solat tarawikh berjemaah together with your neighbours, get opportunity to listen to tazkirah..ohhh,i want it so bad... solat sorang2 kat rumah sangat mengantuk ok! everyday pun baca ayat sama...its need extra strength to finish perform 8 rakaat of solat tarawikh by my own..dugaan dia lain mcm betul.. =p
but i think we were succesfully achived my second resolution to have a very simple and minimum amount of foods during iftar/ breakfasting (*big applause*). We were no longer go to bazar ramadhan everyday like previously because our new house is now far away from the famous bazar ramadhan. The nearest bazar ramadhan in our neighbourhood has not much varity of foods and not so yummy. so i think it is a good reason to cook by ourselves than to buy foods you cant eat.
This is some of our menu during Iftar: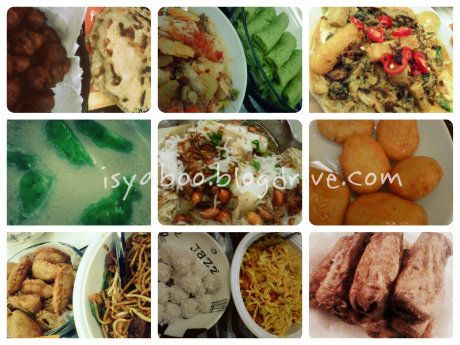 We had Iftar in restaurants for several time when we were already running out of idea of what to cook.. =p
For the third resolution, let me keep it for myself.hahaha.
Basically, My Ramadhan this year has not much different but i still wish for a better Ramadhan next year. I hope i will get an opportunity to meet the next Ramadhan. InsyaAllah.